Designing For Your Group with Bp Designs 
We are excited to create with you! Here are some things to know to keep costumes running smoothly!
HOW DOES THIS WORK? 
We can create anything you can dream up! We manufacturer our costumes onsite at BP Dancewear in Tulsa, Oklahoma. We have been saving the world one dance costume at a time since 2005. We want to make your costume dreams come true! You will work closely with one of our designers to create a look that is in your budget. We have full custom, semi custom, and stock options. 
HOW LONG WILL IT TAKE FOR MY COSTUMES TO COME IN? 
Production of Costumes is between 4-10 weeks depending on the time of year. We publish our ship date every Monday- Our Current Costume Ship Date can be Found Here. We have the longest lead times for August and January delivery times, so we encourage you to start as early as possible! We cannot quote a delivery date unless we have your order fully finalized. Once you have completed the checklist below your order is considered to be placed!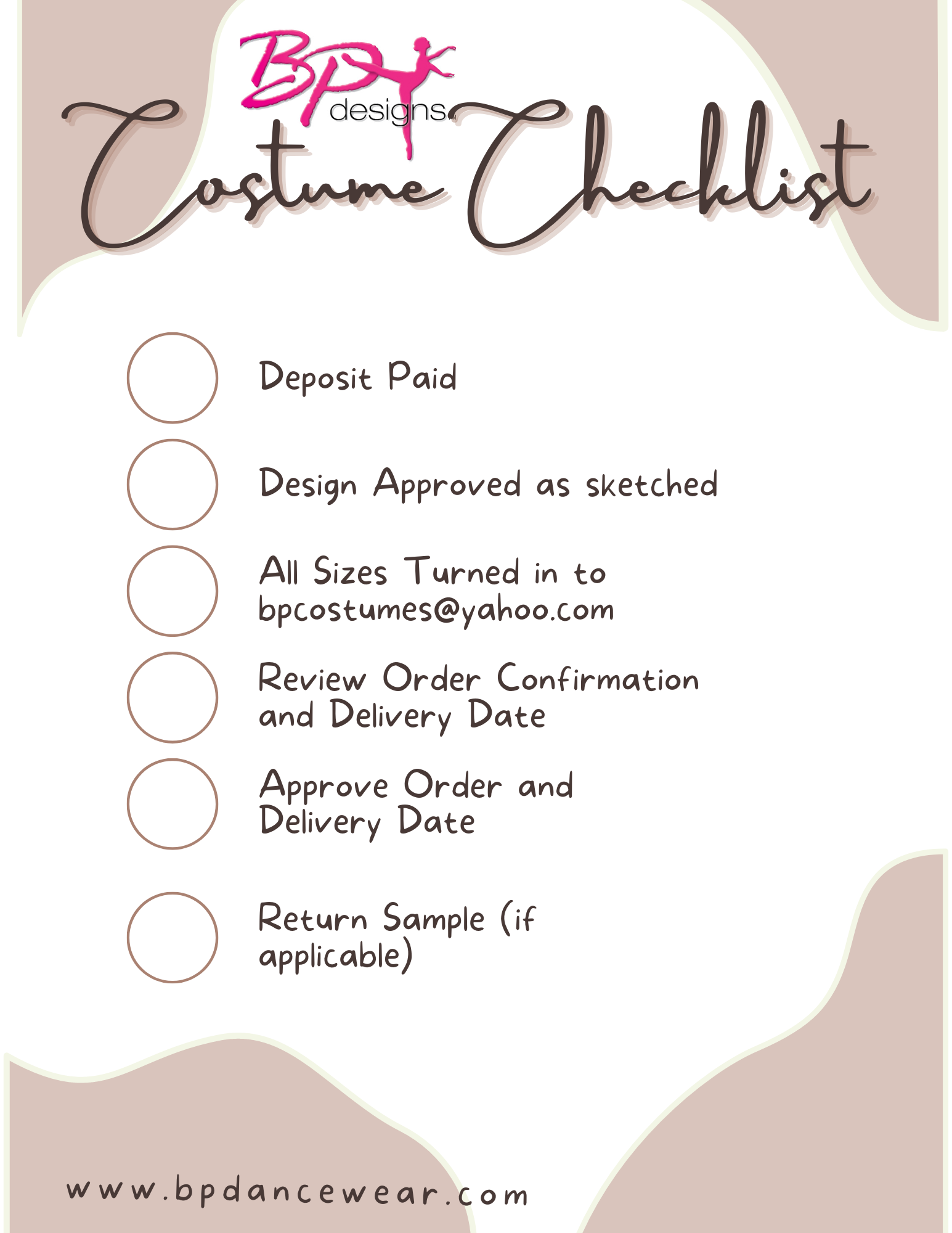 It is nice to know your deadlines when you first design your costume, but your ship date is determined  after the checklist is completed. You will be quoted our current ship date when you place your order. It is your responsibility to place your order in enough time to meet your deadline.  Please take note of our current ship date, it will be posted here, and in your designers email signature. 
HOW MUCH DOES IT COST? 
CUSTOM GROUPS:
We work with a huge range of budgets! When working to design a group number, talking upfront with your designer about your budget will help them design within your budget. We base our pricing off quantity of costumes ordered, design complexity, new vs. stock pattern, fabrics and trims.
SEMI CUSTOM: 
Choose from one of our many patterns to save. Check out some of our designs (we are constantly adding to this page) on our Semi Custom Costumes Page.
You can work with us to choose your fabrics on any of our existing patterns, if you don't see what you are looking for, please reach out to your designer they can help find an existing design to meet your needs. 
Samples:
If you want to see a sample before your order is placed, you can order a sample.
Samples be produced in about 4 weeks after payment is received for an additional $100 sample fee. Please be aware that your order will not be in production until your sample is approved. Ordering a sample will delay full order placement. 
Samples are owned by the customer and are wonderful for sizing. If you change the design or color/fabric we can quote you to alter the sample to match the order. If a sample is approved you should use that sample in your order. 
You save time and money without a sample, but in doing so please know you may need to pay to have alterations to your design if you made risky fit choices or changed your mind.  We do our best to be clear with sketches/discussions, but ultimately we are making the design as we interpret it on the design sheet. If there is something you are unsure of please clarify prior to paying the deposit. After the sample is approved you can THEN place your final order on that current timeline. 
Add on Orders: 
Once of the many benefits of working with Bp Designs, is we can always add on to your order (pending fabric availability)  We will not discontinue a design. Orders less than 5 will have a $35 Small Run Fee applied to the order. Rush fees can apply if add on are needed in an emergency, and are needed before our current ship date. 
BASES AND BASICS: 
Browse our Basic and Bases to have them made in over 70 color choices.
Custom Colors of orders 1-4 will have a $35 Small Run Fee
Here are links to our Catalogs as well. Bp Design Catalog
SOLOS/DUOS/TRIOS
Check out our Solo/ Duo / Trio Page for information here. 
BASIC DANCEWEAR, SHOES, AND TIGHTS 
We can always add to shoes, tights, earrings and non custom apparel to your order. As a group costume customer you will receive a 25% Discount on all non- custom items when order is placed with your custom order. 
HOW DO I SIZE
Here is a link to our size form and chart:
Use this handy tool to help choose sizes! 
BP Designs Adult Size Selection Google Sheet
BP Designs Size Chart (adult, youth, mens)
You will need Bust, Waist, Hip, Girth to best choose sizes from our size chart. It's a great idea to start to compile size info early, in case of absences. The size form tells you where each measurement falls on our chart to help you more quickly choose an overall size for each person.